Subpod's vision is to make composting a part of everyday life. Our partnership with Australia's leading garden supply store, Bunnings, brings us closer to that vision than ever before.
Like most startups, we come from humble beginnings.
Subpod began in a stuffy tin warehouse down the industrial end of Byron Bay. The original team was Subpods' inventor, Andrew Hayim De Vries, our project manager, Kathryn Roberts, and a handful of Andrew's friends who believed in his project.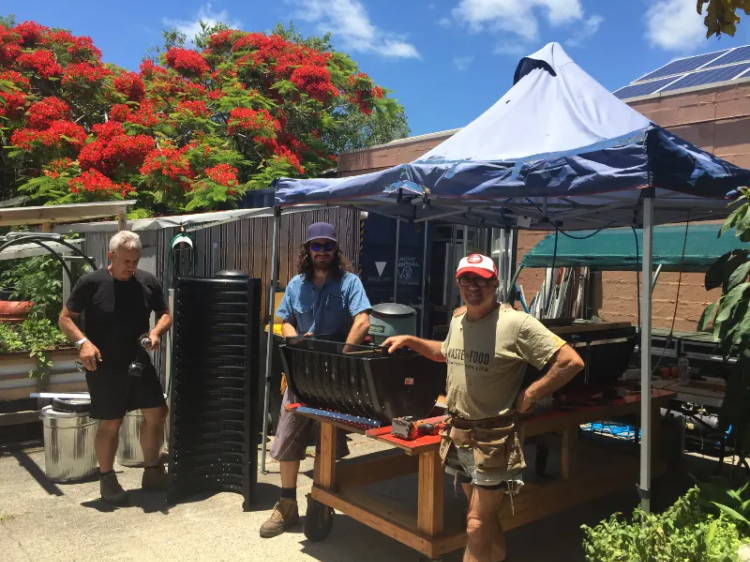 Pictured: Greg Beaver (far left), Harrison Payten & Andrew Hayim De Vries (far right) with the base of a Subpod prototype.
Back then, Andrew spent his days creating Subpod prototypes. He built everything by hand – above ground compost systems, below ground ones, even ones that looked like giant traffic cones!
The very first 'Subpod' was a Frankensteinian combination of a huge section of an agricultural pipe, some black metal mesh and an aluminium lid made from an old sign! It was heavy, rigid and had a long way to go... but it was a Subpod.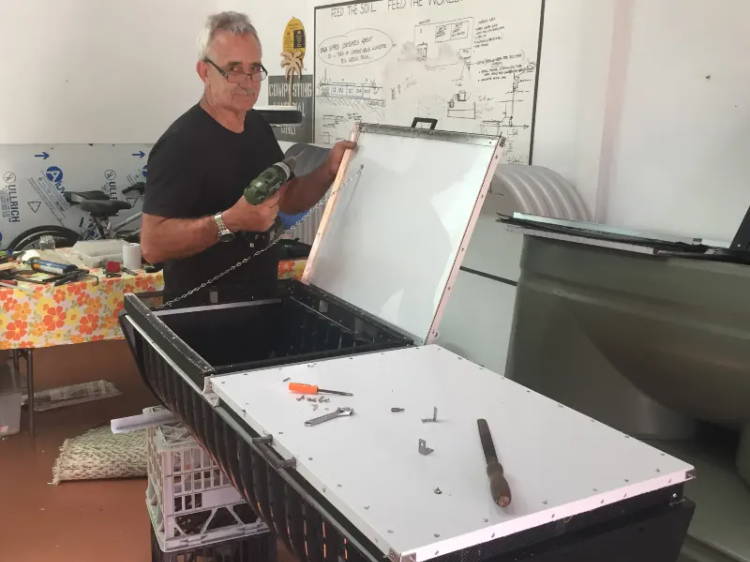 Pictured: Greg Beaver working on a Subpod prototype.
The next year was a flurry of activity. The team grew as more hands came on board to help create an 'official' Subpod prototype that could be easily reproduced.
In this whirlwind of construction and DIY, the Bunnings around the corner became a haven. It supplied the seemingly endless stream of drill bits the team chewed through (all those holes around Subpod? They used to be drilled by hand!) and fiddly objects that Andrew Macgyvered to fit his needs.
Pictured: Andrew Hayim De Vries (left) and Subpod CEO Saadi Allan (right) with 2nd generation Subpod prototype.
"It was basically our tool shed!" Laughs Kathryn, "Any time you couldn't find Andrew, he'd be at Bunnings – buying copious amounts of zip ties or fashioning together some new bold feature for the latest prototype."
We've got countless receipts from years of last-minute Bunnings runs. We walked those aisles more times than we could guess and treated that store like our own workshop.
Which is why we're so excited (and shocked) to announce that Subpod is coming to the shelves of Bunnings stores all over Australia!
Our partnership with Bunnings will bring modern compost systems to Australian neighbourhoods all over the country. We love delivering Subpods to our worldwide community with just the click of a button, but we're so excited that Aussies now have the option to pick our box off the shelf of their local Bunnings!
We could never have imagined that just two whirlwind years after launching our crowdfunding campaign, we'd be sitting on the shelves of the same hardware store that helped make Subpod possible.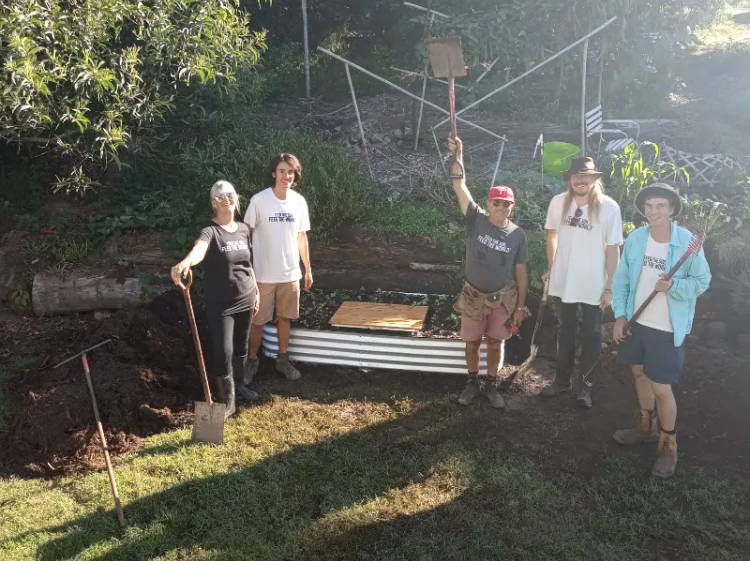 Pictured: Kathryn Roberts (left), Peter Critch, Andrew Hayim De Vries, Saadi Allan and Peter Howard (right) celebrating the install of a Subpod prototype.
For an Aussie start-up just finding our feet, this is as good as it gets. We want to make composting a part of everyday life – a part of our schools, our homes, our workplaces and even our factories and stores. And we can't do it alone.
We need everyday people – the gardeners and the DIY-ers (and the sausage snag enthusiasts) to jump on board and start changing the way they waste. Partnering with Bunnings has given us a more intimate way to bring Subpod to you, and we couldn't be happier.
So head down to your local Bunnings and show some support for a small Australian company doing something good for the planet! If you've ever wanted to see a Subpod in person, now's the perfect chance.
Prefer to shop online?
Check out our easy to use compost systems!