Modbed is our solution for eager composters who simply don't have enough outdoor space for a traditional garden. Their backyard is just too small to have some soil with plants growing in it, let alone a food-waste fighting Subpod. So we designed a modular and portable garden bed on wheels, big enough to house a Subpod Mini with some soil around it from which plants grow. Check out a Modbed below: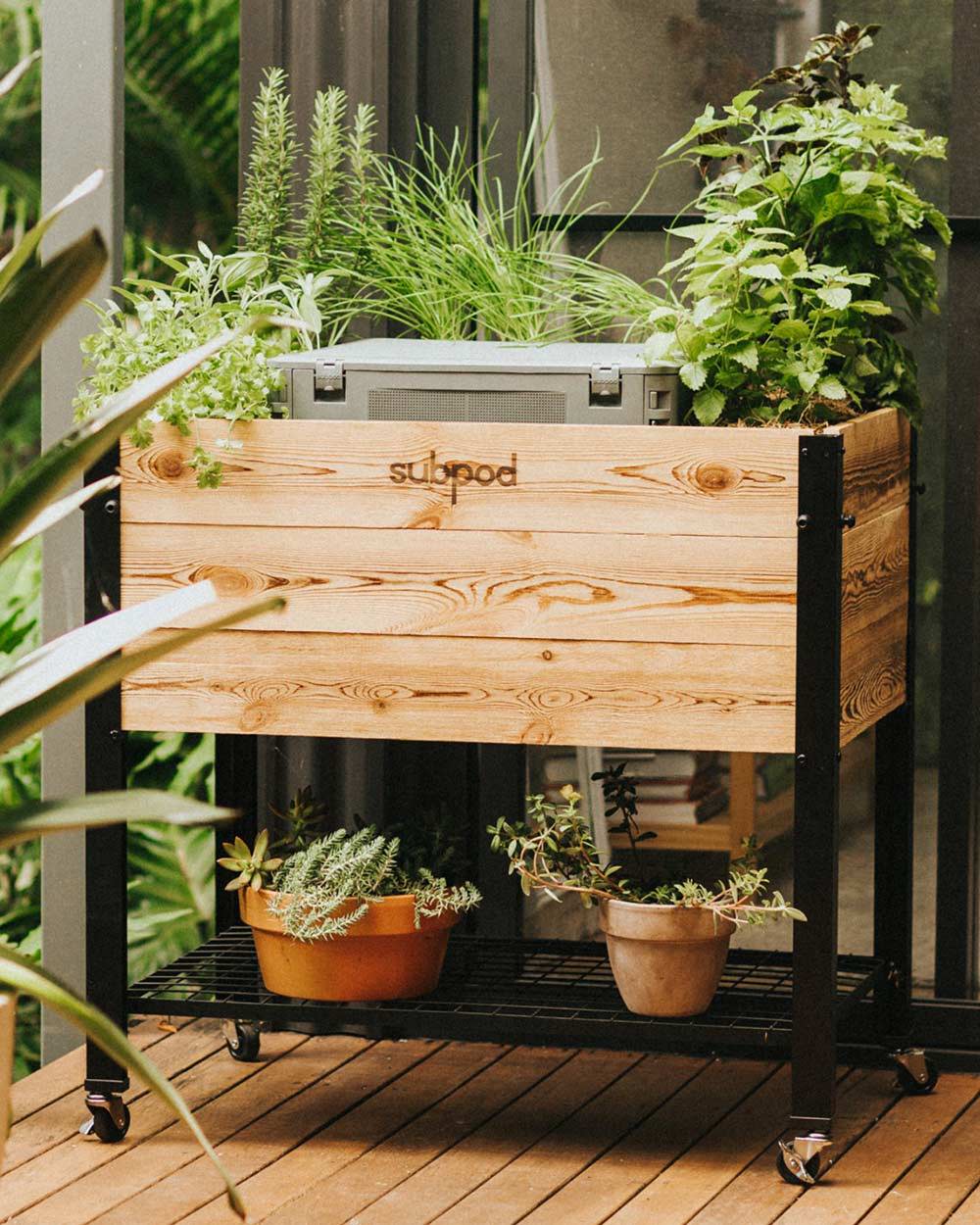 It's a super stylish addition to any balcony or outdoor space, one that makes the amazing world of home composting available to urban dwellers everywhere. Only got a balcony? No problem - with Modbed you can turn that balcony into a thriving, lush, ecosystem! The best thing is, it's not difficult to do. Gardening beginners can be composting and gardening in no time at all!
Modbed users from around the world have fallen in love with this easy and convenient composting solution. This is one of the reasons we're so excited to introduce our new range of accessories for Modbed! Designed to complement your Modbed, they allow you to maximise the growing space and performance of your garden. These are easy add-ons with a big impact! Let's take a look.
Modframe
Modframe is the foundation for all our new accessories. It's a sturdy and durable frame that fits snugly onto the corners of your Modbed, and onto which the new accessories are attached.. Made from aluminium with a black anodised finish, it's lightweight, stylish and versatile.
Thanks to Modframe, you're able to easily set up our three new accessories on your Modbed. A whole lot of vision has been applied here by our designers, because there are actually more accessories to be released, each providing unique options to improve your gardening space!  
The below image shows a Modframe with one of our new trellis accessories attached: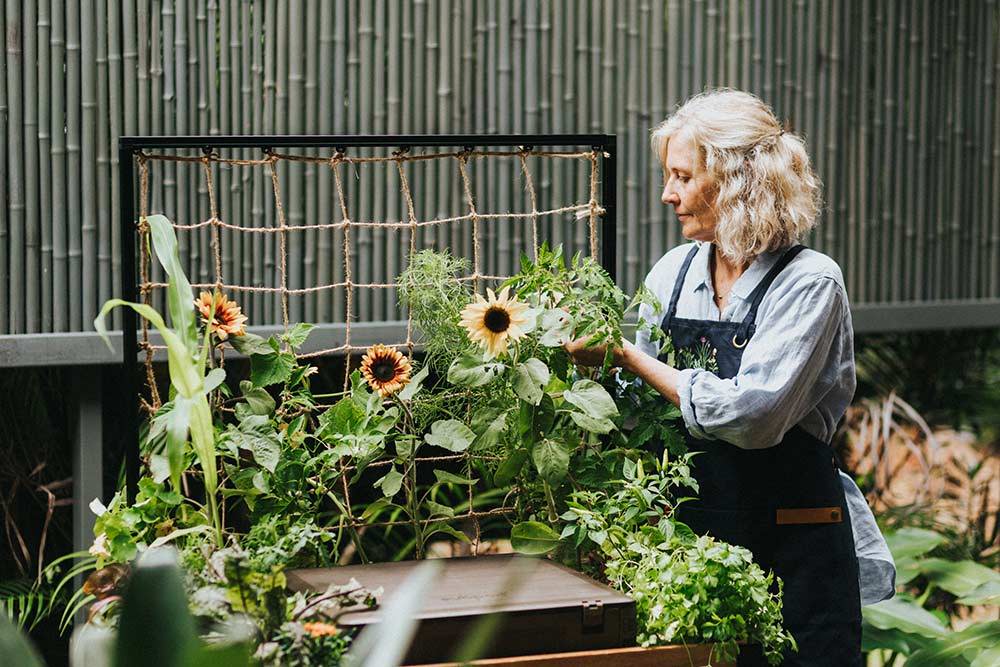 The Trellis
The Trellis connects to your Modframe with specially designed clips, creating a web netting for plants to grow vertically up. You'll be able to use your space far more efficiently by planting climbing plant varieties that will grow up the Trellis. Your plants have room to produce more, and plants that would otherwise be weighed down with produce are supported!
100% made from an eco-friendly and sustainable fabric called jute, the natural colours of the Trellis blend nicely into any background. It's strong and resilient, expanding your growing space and improving your balcony ecosystem! Here's a pic of a Modbed with the Trellis attached: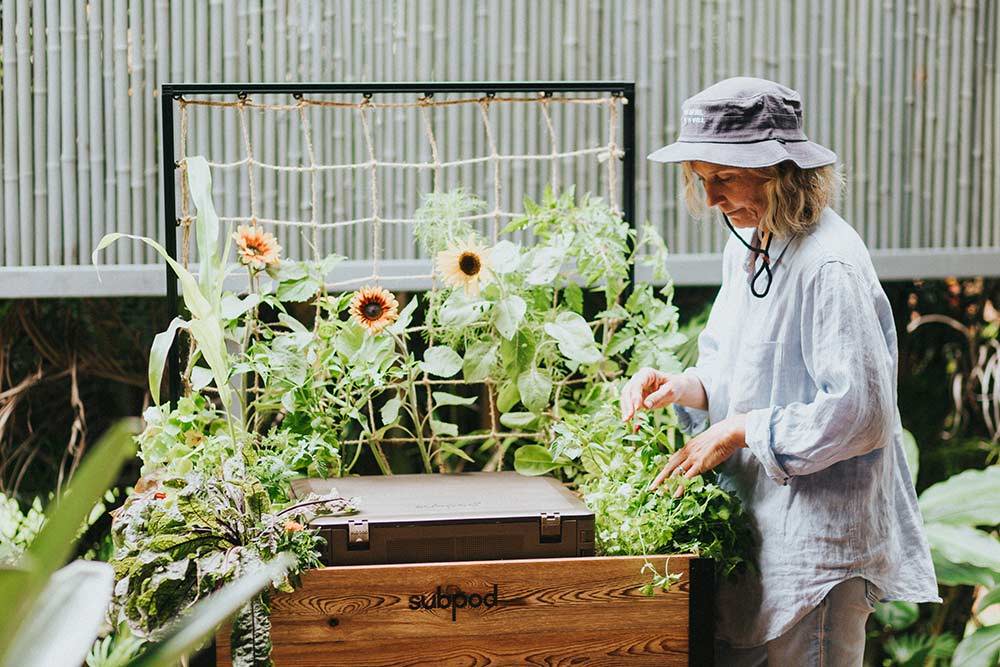 •••Subpod hot tip: Plants that grow beautifully on a Trellis include sweet peas, tomatoes and climbing nasturtium.•••
The Harvest Protection Cover
This mesh covering is custom cut and hem-sewn to fit snugly over the Modframe, providing a protected and safe environment for your plants to grow in. With a shade rating of 25%, it keeps pests and UV rays out yet still allows water and air in, making it easy to optimize your growing conditions.
Made from polyethylene, we love how the Harvest Protection Cover effortlessly sheaths over the Modframe, and is held securely by velcro wraps and a sturdy elastic band. Sturdy zips allow access to your garden and your Subpod within!
Want to know what this awesome piece of kit looks like? Check it out below!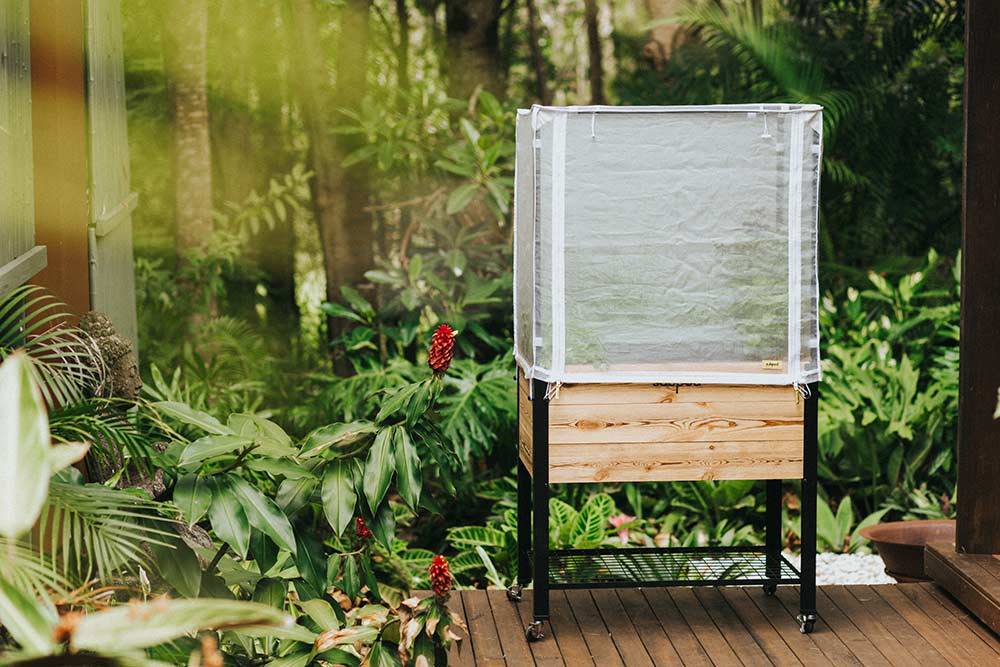 The Greenhouse
If you live in an area with icy cold winters, you're going to love the new Greenhouse accessory for your Modbed! It's designed to keep out extreme cold and precipitation, letting sunlight reach your plants while trapping the heat inside. It's a hothouse environment for your plants!
Made from clear and non-permeable PVC, the Greenhouse is built similarly to the Harvest Protection cover, snugly fitting over the Modframe and held in place with stiffeners and velcro wraps. The zippers allow you to lift up the side flaps and provide ventilation to your plants if required, so you can optimize the internal conditions for them.
With this gear, you can keep composting and growing plants even in the cold winter months! This is how it will look on your verandah: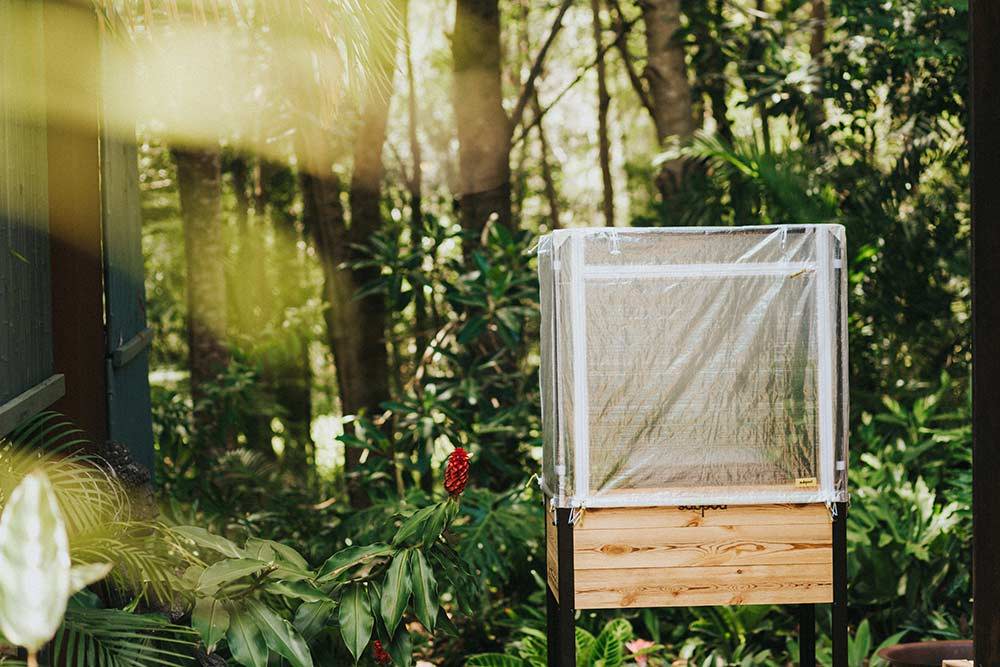 Are You Home Composting Yet?
With Modbed and its range of accessories, there's no reason not to turn your balcony or open space into a food-waste fighting, compost producing, fertile ecosystem! Our goal is to make composting an everyday part of people's lives, so once your Modbed and accessories are set up, it only takes a few minutes a week to compost your food waste! Plus, you get to enjoy all that delicious fresh food you grow! Have a look at our range of composting systems and accessories below, and we'll see you in the garden soon!
Start Composting and Gardening with Subpod!
Check out our easy-to-use vermicomposting solutions.