Subpod has been making some strong headway in Europe, and we're particularly excited the Unilever Foods Innovation Centre 'Hive' is joining us in our food waste fight! Earlier this year Subpod's own Kathryn Roberts traveled to the Netherlands to visit and talk at Hive.
Kathryn had a great time connecting with two progressive, climate-conscious chefs, Leonardo Silva Carvalho and Antonio Alvarez Butron. These guys are real champions of sustainability, and they've really taken Subpod and run with it at Hive. Today we want to talk about how this union came about, but first let's explain what Hive is all about.
Hive is "a vibrant and highly connected powerhouse where innovators work on the foods of tomorrow." It's located in Wageningen in the Netherlands, which is often referred to as 'the silicon valley of food'. Hive is Unilever's global research and development centre aiming to transform the food industry into a more healthy and sustainable system!
There are over 500 innovative employees working at Hive, where 18,000m2 of space includes laboratories, kitchens, collaboration spaces and a pilot plant. They work with some of the world's best loved food brands and serve consumers in over 190 countries around the world.
The building itself is aesthetically stunning and represents an exquisite commitment to sustainability. It's energy neutral, composed of many recycled parts and powered by over 1500 solar panels. It's even won two BREEAM awards, recognising it as one of the world's most sustainable buildings.
Which is why it's such a good match for Subpod…
How Subpod and Hive Joined Forces to Fight Food Waste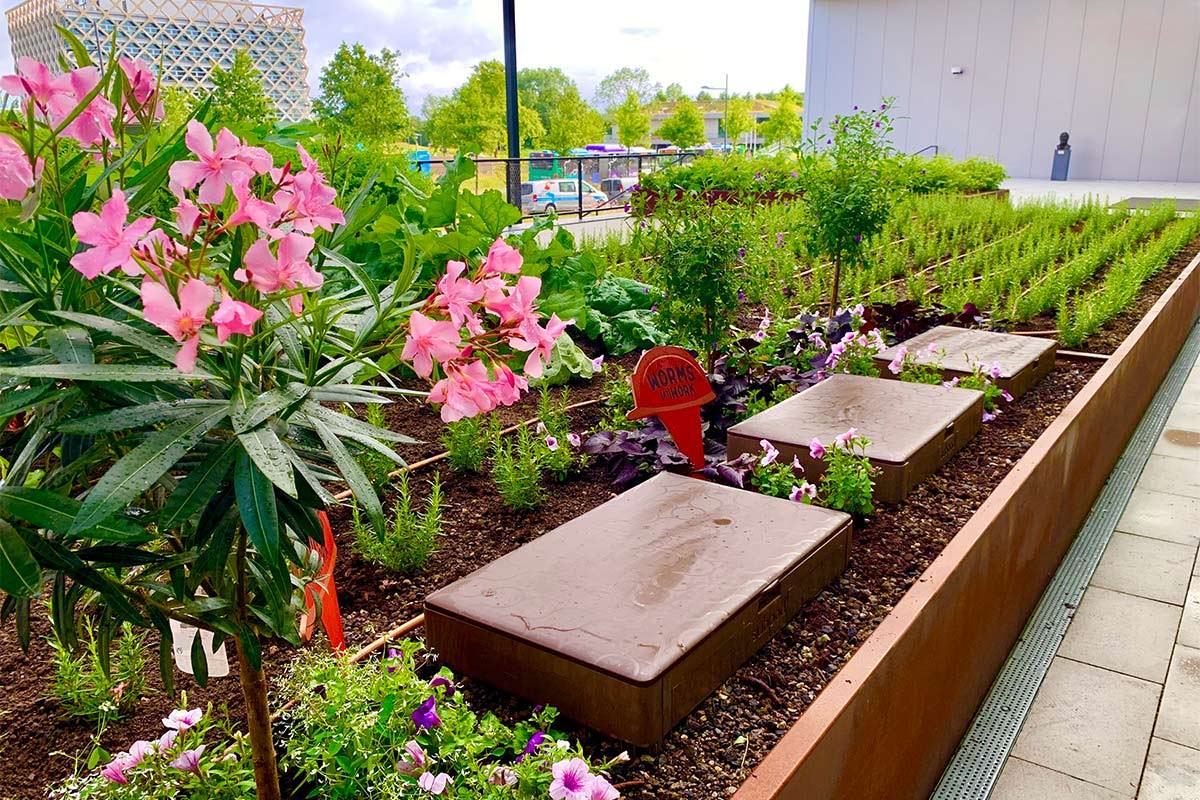 Chef Leonardo was part of the team working on the sustainability of the building and its gardens. The gardens were to host a huge variety of plants and vegetables to support the kitchens on site, and naturally their thoughts turned to composting.
It was decided traditional composting wouldn't be a good fit for the space at the Hive, because of the mess, the odours and the pests it would attract. The idea was put on the backburner for a while.
Then Leonardo spotted Subpod on the Kickstarter app. He investigated a bit and watched some of our videos, all the while asking himself "Surely it can't be this easy?" He decided to test a Subpod himself and test it for a while before pitching it to the team at Hive.
After a year-long test his question was answered. It can be this easy! Leonardo was also super impressed by the enthusiastic vision of the team at Subpod, plus the readiness of the Growhub community to guide him and help him.
He took the concept to Hive building management, and they had one question for him: "How many do we need?"
Riding this wave of positivity, Leonardo got in touch with us at Subpod. He wanted Hive to become a centre for Subpod in Europe, a benchmark for all the good this product can achieve. What a fantastic opportunity to gain traction in the fight against food waste!
Today there are 14 Subpods incorporated into the gardens at Hive. They started off using half of these as they learned what can be composted from their innovation kitchen and what can't. They're figuring out the balance and have now ordered worms for the remaining Subpods!
So far they are managing to compost about 60-litres of food waste per week, which has helped reduce their food waste by 60%! We're excited to watch this rise as they start to use the remaining Subpods.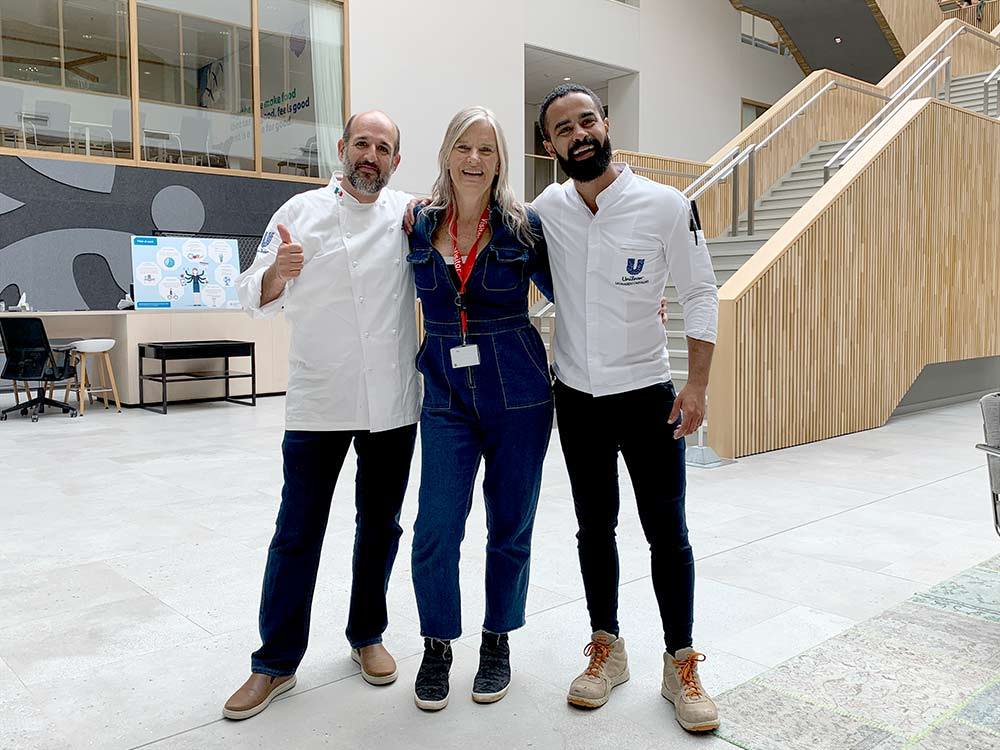 Our project manager Kathryn had an incredible trip to Hive earlier this year. She can confirm that the Subpods look fantastic in the gardens there, complementing the modern vibe of the building perfectly!
Kathryn found that all the chefs working with Leonardo and Antonio in the Innovation kitchens are on board with Subpod. She worked with them to overcome early mistakes made, like trying to compost too much plant based meat substitute. They discussed how much salt and vinegar the worms and microbes can handle, and how to add carbon, aerate the compost and keep the worms happy!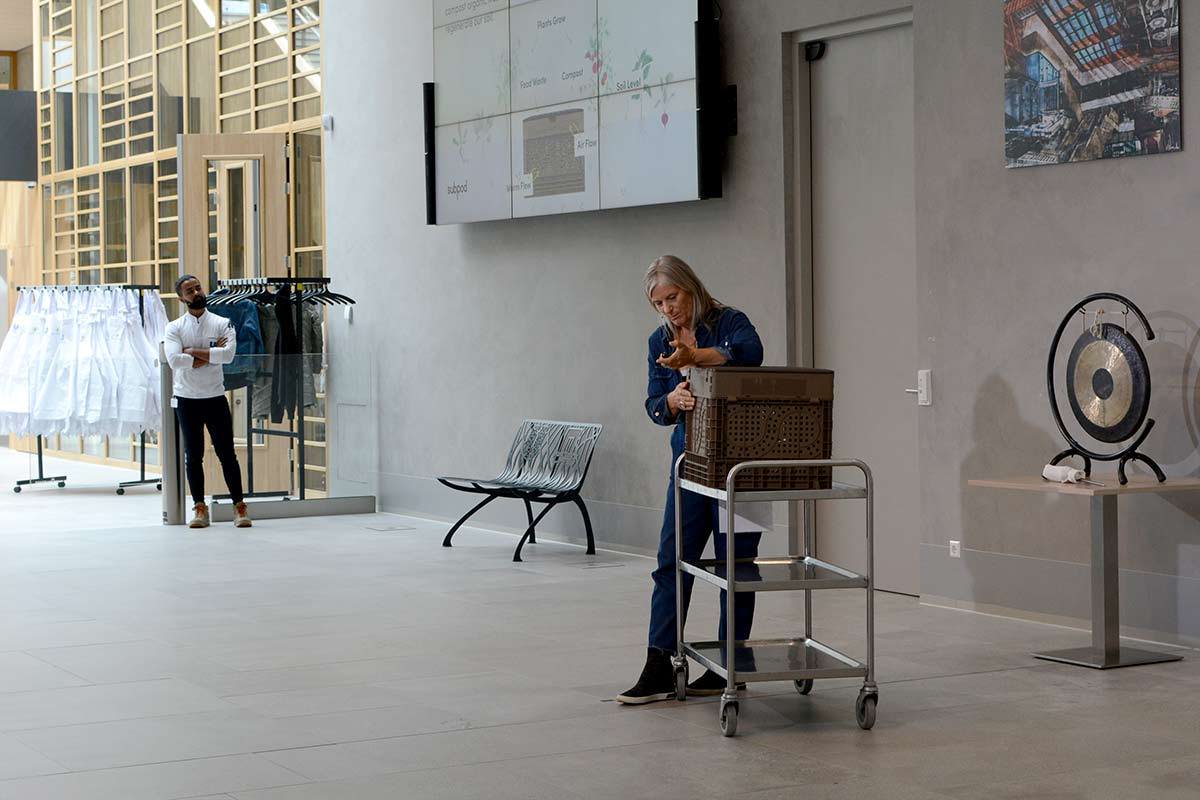 Kathryn also gave a presentation to the staff at Hive about Subpod, and how it uses nature to rapidly compost organic waste and regenerate the soil. She did a feed of the worms for everyone to see how Subpod works! This was part of the Unilever Nutrition Launch, the first time in two years that staff had been able to meet face to face again. It was a great day to be a part of.
The Future for Subpod and Hive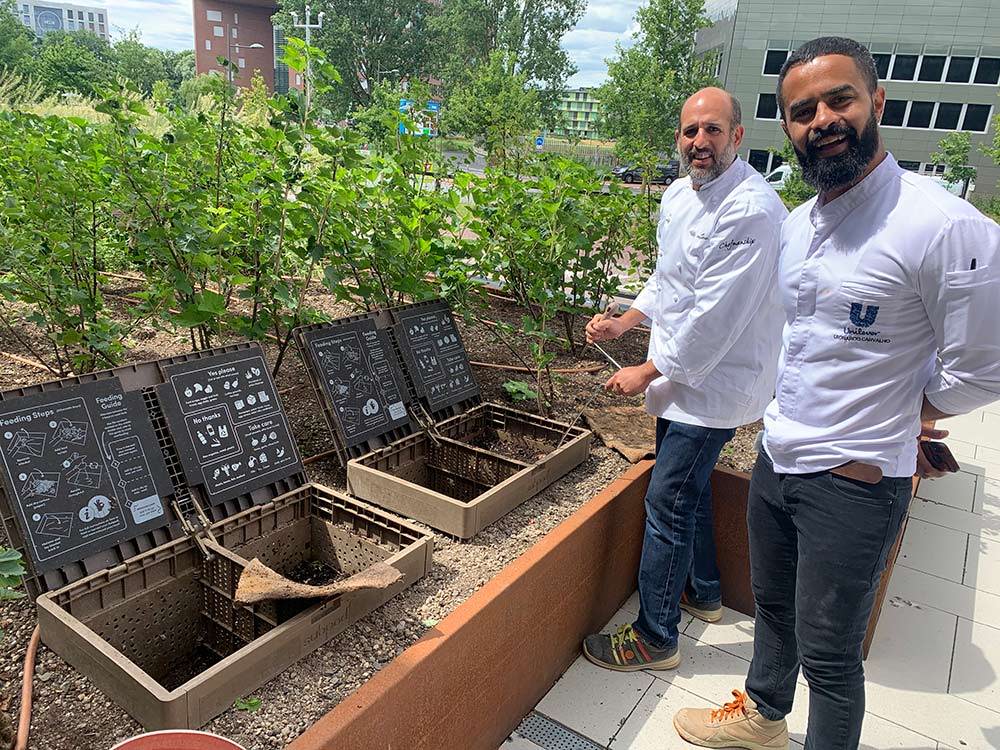 It's been great connecting with Leonardo and Antonio and building a relationship with all the team at Hive. We love having them as part of the Subpod family, and are excited for them to showcase Subpod to anyone in Europe wanting to learn more about it and vermicomposting.
Please keep your eyes and ears open for future Subpodcasts with the two Unilever chefs. We have just done an online event with them that'll help you get to know them, their values and their connection to Subpod. You can watch it here!
Want to Join the Fight Against Food Waste?
Hop on board the Subpod train, just like Unilever did!